Like old blue eyes said,
"It was a very good year."
...and 2013 was.
I know it seems like everyone does a 2013 in review post and/or a resolutions for 2014 post. While I try to be original and unique, in a world of six billion people, I actually have better odds of winning the lottery than being unique. So I'll spare you the resolutions but I'm still going to do the review.
What's that?
Oh.
The monkey just told me there's more like
seven billion people in the world
, not six. I'm not sure if that's supposed to prove my point or make me feel stupid.
Who's the monkey?
It's sort of an inside-ish joke. At the 2012
GET LIT! festival
, I was on a writer's panel when someone asked a question about confidence or fear of failure or something along those lines. My reply was that I believed every writer has a monkey in his/her writing life. The monkey perches on some shelf or piece of furniture behind the writer while the keys are tapping and magic is happening and what the monkey does is what all monkeys do. He throws poo.
And yells.
"You suck!"
Throw poo.
"The story you're working on sucks, too!"
Throw poo.
"Don't show it to anyone. You know why? Because it sucks!"
And...throw poo.
I don't know, I told the audience. Maybe I'm the only one with a monkey. (Mine likes to hum the tune of
Springsteen
's
I'm Goin' Down
while I work). But if you have a monkey, too, then here's my advice: don't listen to him. Don't throttle the little bastard, either, as much as you might want to. He serves a purpose. Actually, he does more than that. He provides a service. In small doses, the doubts he plants help ensure our best efforts. Those doubts are why we give it "just one more read" before letting a book go, polishing and preening it on the way out the door. But taken too much to heart, the monkey is like cancer. Confidence cancer. So don't listen to him. You can't help but hear him, but don't listen.
People in the audience laughed in the appropriate places, and I think they got what I was saying. After the panel was over, I was talking to another writer named
Brian Triplett
. He gave me a serious look and told me, "Dude. The monkey pays half my rent."
I still laugh at that. Hey, Brian, at least your monkey contributes, right? Most of them don't even clean up after themselves.
Despite my resident monkey, 2013 was...well, a very good year. Here are the top ten great events that happened in my life in 2013. I'm limiting entries to my writing journey, since this is what this blog is about. Suffice it to say that if this were life as a whole, eight or nine of these entries would have to do my wife, family, and close friends. All right, caveat aside,
here's the list:
Honorable Mentions:
At This Point in My Life Released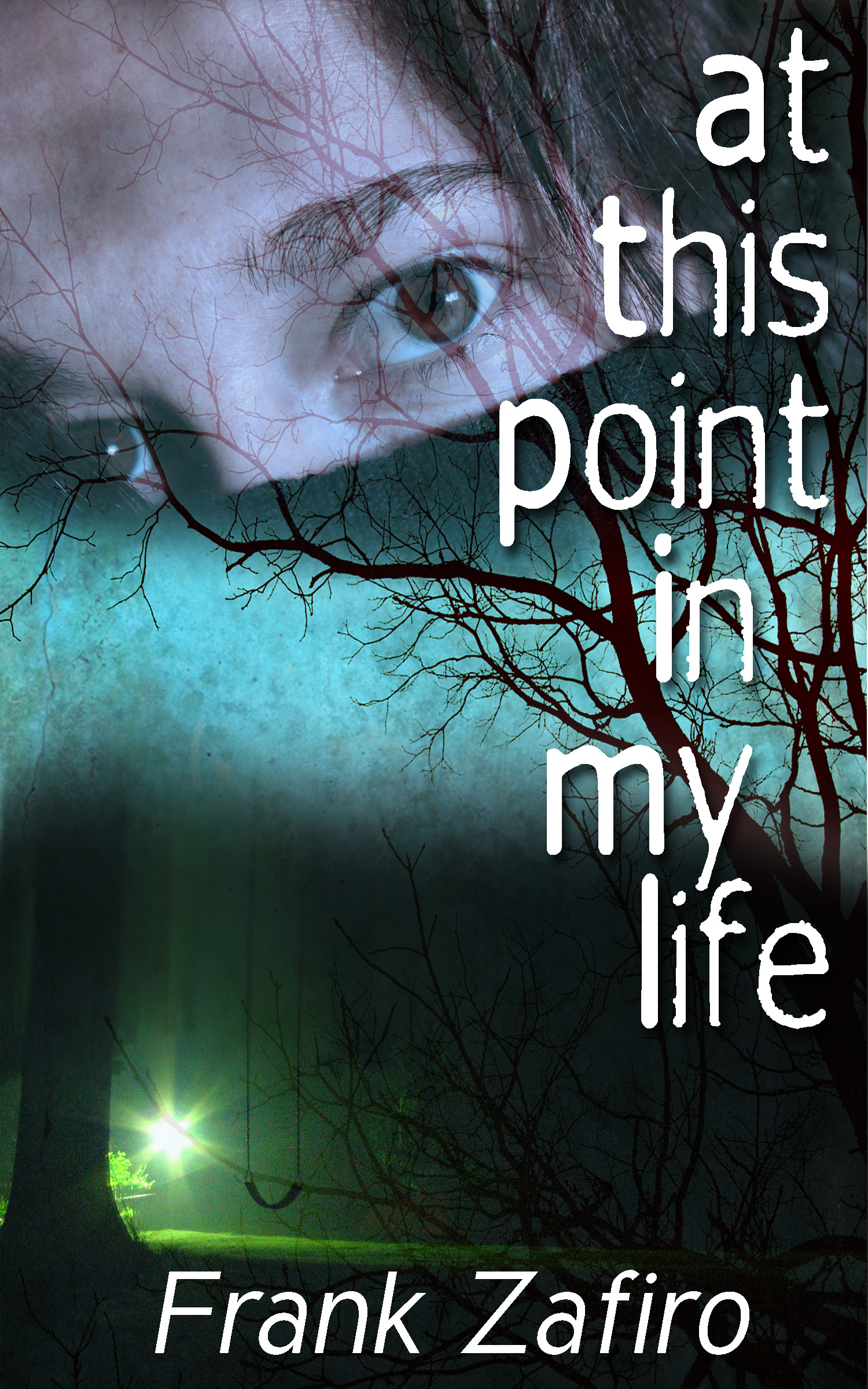 Okay, I'm cheating a little bit. This actually came out on December 9, 2012. But it really didn't get legs until 2013, so I'm including it.
Writing about a new and different character (Jack McCrae) was fun. Mac is different than most of the main characters I've written about in the past. He's almost sixty, for one. He's not as intense as some, either. At least, not at first...
I Finished Drafts of At Their Own Game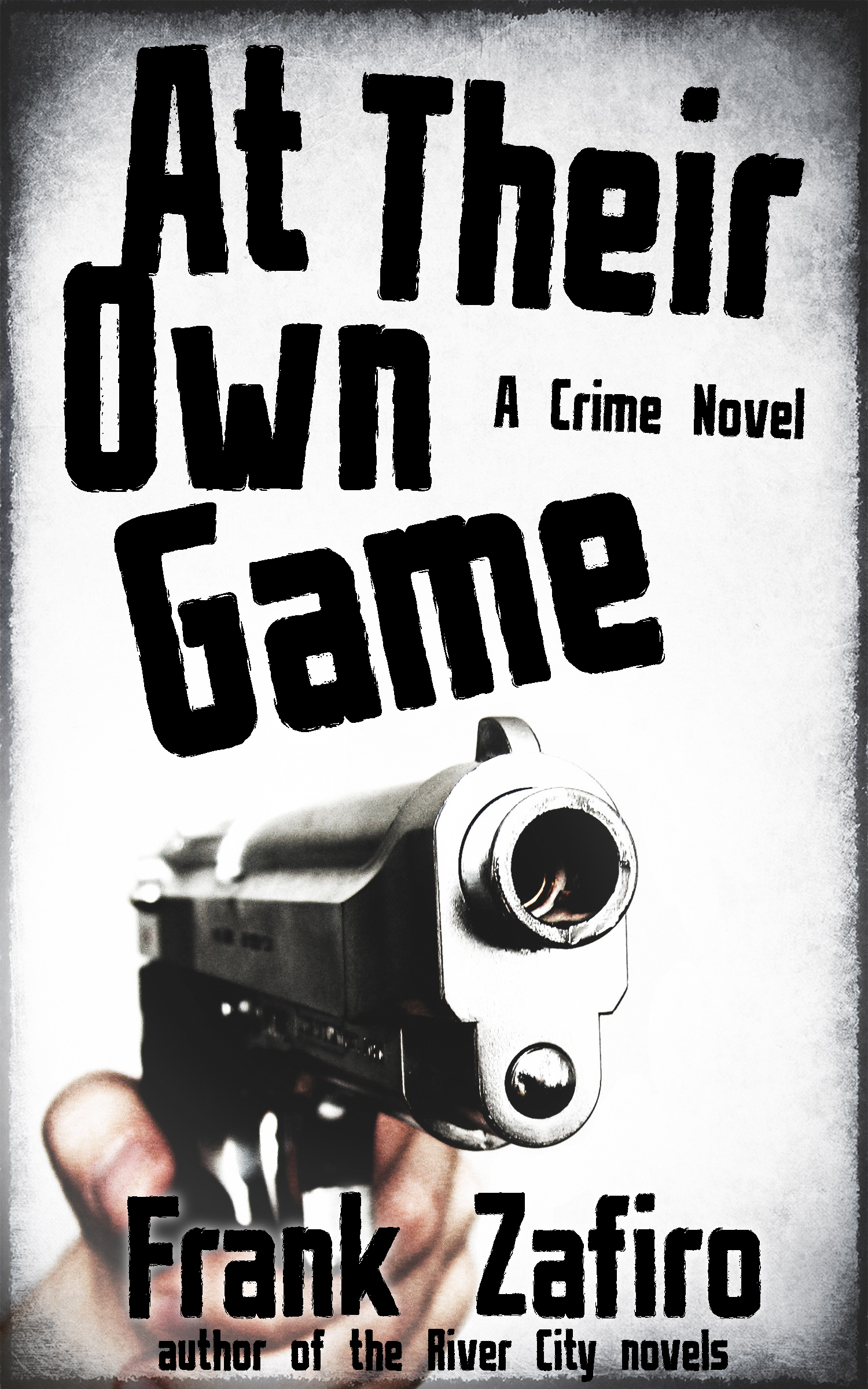 By December 31, I had drafts out to readers and several have come back. I'm anticipating a Q1 release for this novel.
This is much different from most of the crime fiction I've written in that Jake Stankovic isn't a cop or a detective or retired law enforcement. He's a criminal, plain and simple. Writing from that angle was a fun departure, and I'm sure I'll be doing it again.
10. Books in Motion Picked Up the River City Series for Audio
Locally based audio publisher
Books in Motion
became the River City publisher in 2012. But they produced
all four River City crime novels
in 2013. Narrator Michael Bowen did a stellar job, really capturing several of the characters with his performance.
9. More Audio Books Released Through Amazon
The remainder of my novels were produced as audio books through ACX, an Amazon subsidiary. This was a different process than with Books in Motion because I was essentially the executive producer for each title. I chose the narrator and directed the performance (in a strategic sense). This made for a great deal of work but it was also a lot of fun. The results were outstanding. Check out the audio samples on
Some Degree of Murder
, or
Blood on Blood
, or...well, really, on
any of them
. I was fortunate to work with very talented and professional narrators.
Hearing your book performed by a narrator is cool experience, too. Especially when the narrator nails the passage or the piece of dialogue exactly the way you heard it in your head when you wrote it.
I enjoy audio books and am looking forward to those future productions.
8. Queen of Diamonds Released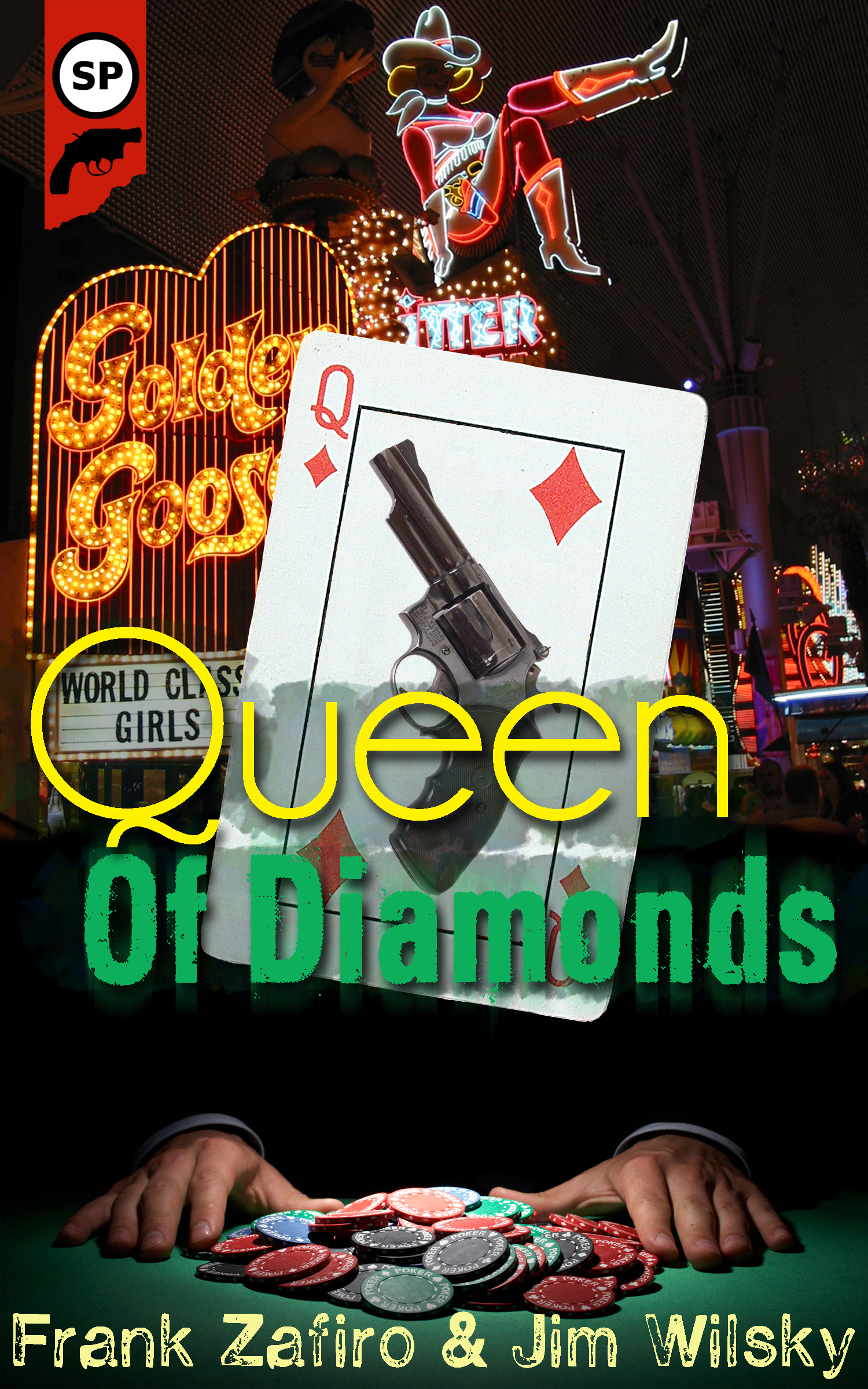 This second book in the Ania saga follows
Blood on Blood
, and takes us to Las Vegas. It was a fun book to write. You've got poker players (a cowboy circuit champ and an ex-baseball player), Swedish gangsters, crooked casino bosses, and sexy siren Ania, all set in Sin City, USA. What's not to like? In fact, why are you not reading this book right now (or listening to Johnny Peppers' great narration)?
Working with Jim Wilsky has been a blast. Not only is he a great writer but he's a great partner and friend. Which leads me to...
7. Closing the Circle Finished and Almost Ready
The third book in the Ania saga, again written with Jim Wilsky. This one was a little more work at times but remained an enjoyable a writing experience. Working out story and plot with Jim is much easier than one would expect, and we have a process that works. Here's hoping every calendar year has a Wilsky/Zafiro title release.
As an aside, the fact that Jim is working on a solo project (also a crime novel) doesn't necessarily belong on
my
list, because it's his accomplishment to trumpet, but I don't think I'm overstepping to say YES! and I CAN'T WAIT!
6. Write Your Novel! Workshop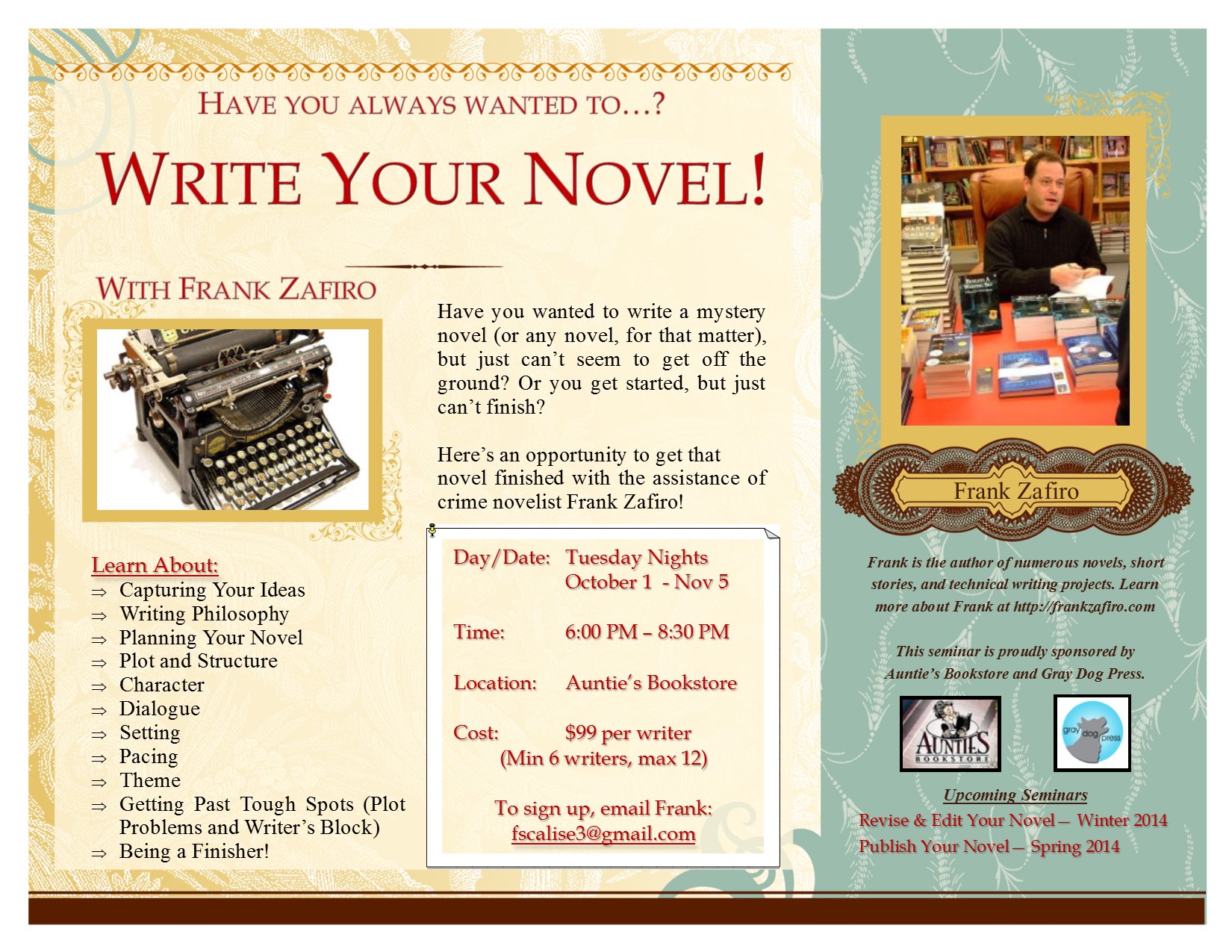 In October, I was joined by five brave souls as I taught a workshop about getting through that first draft of your novel. I really enjoyed the experience and was thoroughly impressed with the writers who attended. As is often the case,
teaching is learning
, and I know I got at least as much out of the workshop as the writers who attended. In less than week, we start the
REVISE YOUR NOVEL! workshop
*
, so there's another journey to look forward to.
*
You can still sign up for this one. It starts January 7.
5.
Chisolm's Debt
Released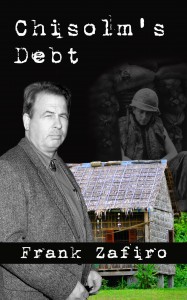 Thomas Chisolm is one of my favorite River City characters. He was
based on a real person
, at least initially. He carries the weight of the world on his shoulders and somehow comes through most of the time.
For years, I've been very interested in why he does that. Where did his guilt come from? And is that a weight he could ever shed? Out of that wondering came this story, which encompasses Chisolm's experience in Vietnam as a nineteen year old soldier which set him on a path that he only comes to the end of as a retired cop in his sixties. It's a story about redemption, the toll of war, and about personal peace.
Chisolm's Debt
has now replaced
The Last Horseman
as the book I have designated for supporting veterans. Every November, all royalties from this title go to a veteran's support charity (currently Remind.org)...which brings me to....
4. I Donated $1202.30 to REMIND.org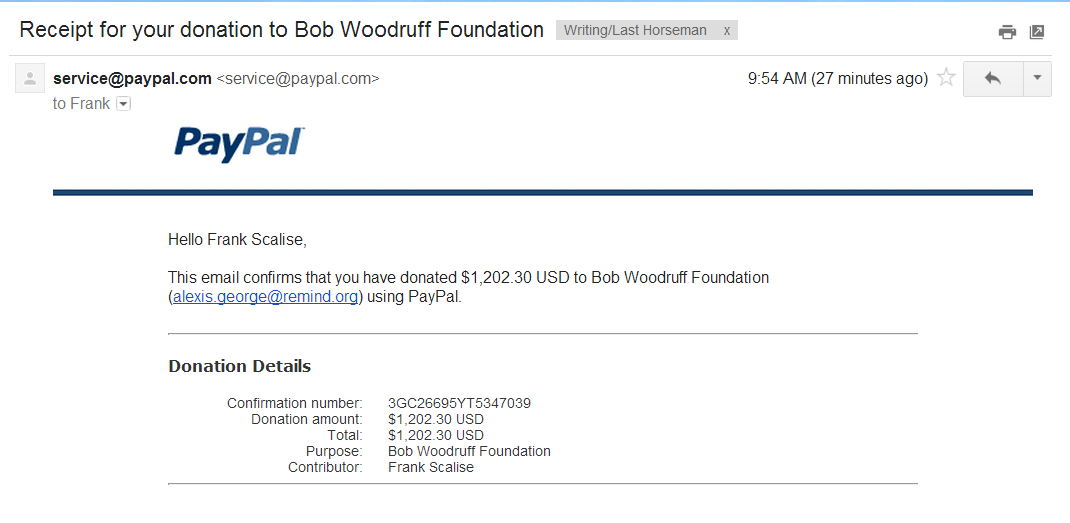 This felt
great
. Thanks to you readers, sales in 2012 were strong, and
The Last Horseman
was no exception. I was (really,
we
were) able to donate almost two and half times my $500 target to the veteran support organization Remind.org. I wrote extensively about why I chose this cause to support, but the short version is because it is the right thing to do. Our military members provide a tremendous service at great risk, and I staunchly believe we need to care for them when they return.
3. I Traveled to Italy for Research
In June and July, I traveled to Italia for a month with my wife and parents. It was certainly the trip of a lifetime from a vacation standpoint. Great locations, great company, great food, and great vino (lots of great vino). But my purpose was also to research for future novels. At the end of the month, I had three solid ideas mapped out. The first of them has bubbled up pretty high on the TO DO list, and is hovering in second place right now. So you can expect an action/thriller set in Venice sometime in the first half of 2014. A murder mystery set in Praiano (on the Amalfi coast) is also in the offing, as well as a generational saga that is a little bit of a departure from my crime fiction ways. You may need to read that one under my given name, even.
2. I Retired to Write Full Time
After a twenty year career with the
Spokane Police Department
, I decided it was time to take a leap. With the full support (even urging) of my wife, I retired to write full time. In fact, that's when I started this blog, and why it even exists -- to talk about that writing journey.
If you're thinking that retiring isn't such a ballsy move (my monkey threw poo at me and said it wasn't, that people do it all the time), let me add one element. I'm forty-five right now. The earliest I can draw my retirement pension is at age fifty. That leaves a five year gap.
Five
years
.
Yeah, there's where it gets a little risky, huh?
Take
that
, monkey.
But I'm lucky. Like I said, I have the full support of my wife (emotionally and financially) and we're making it work. And believe me, I'm tippy-tapping at the keyboard, too. Being a full time writer has been an adjustment but an exciting one. Thank you, Kristi, for making it happen. Thank you, friends and family, for being supportive. Thank you, readers, for buying, borrowing, and reading
my work
.
There's more on the way.
1. I Kept the Monkey at Bay
I hear ya, pal. I hear ya.
I'm just not listening.